L'auteur américain Fred Saberhagen est décédé le 29 juin dernier, à l'âge de 77 ans. Il a écrit une série d'ouvrages consacrés à Dracula dans lesquels apparait Sherlock Holmes (Le Dossier Holmes/Dracula).
vient de décéder, le 29 juin dernier, à l'âge de 77 ans. Il était né le 18 mai 1930 à Chicago.
Très connu pour sa série des Berserkers, qui n'est pas de la fantasy contrairement à ce que l'on pourrait penser, Fred Saberhagen s'était également illustré dans ce domaine (notamment les
Le Trône Noir''.
Lire ici une critique du Dossier Holmes-Dracula.
Lire une critique de Dracula et les spirites.
Lire une interview de Saberhagen sur le site www.vampiredarknews.com

Son site officiel pour de plus amples informations.
Fred Saberhagen
May 18, 1930 - June 29, 2007
Fred passed away at his home in Albuquerque on Friday, June 29th.
Fred Saberhagen is the author of several popular science fiction and fantasy series. His Berserkers® have menaced the universe for almost 40 years. Fred's SWORDS and LOST SWORDS stories have caught the imagination of many fantasy readers. Less well known, but equally intriguing are Fred's exploits in the area of historical fantasy where figures such as Hitler and Lincoln, Daedalus and the pharaohs, populate his alternate worlds. On the border of history and fantasy Fred has created a unique picture of an old favorite, Dracula. His BOOK OF THE GODS series is a new telling of the anicient myths. His most recent work is Ardneh's Sword connecting the Swords series with Empire of the East. Many of his works also appear in tape and e-book format.
Before abandoning himself to imagination, Fred served in the US Air Force, worked as a civilian electronics technician, and wrote and edited articles on science and technology for the Encyclopedia Britannica. Fred was born and raised in Chicago. He now lives and works with his wife, Joan Spicci, in the Land of Enchantment, Albuquerque, New Mexico, USA
Remembrance:
Albuquerque author Fred Saberhagen
was science fiction pioneer
Fred Saberhagen was a trailblazing author of science fiction and fantasy.
He was writing about ruthless, relentless killing machines more than 20 years before the first "Terminator" movie appeared, and he was telling stories from the vampire's point of view before Anne Rice's "Interview With a Vampire" was published.
He was tireless, too. Churning out more than 60 novels, from 1967's "Berserker" to 2006's "Ardneh's Sword."
But Saberhagen, who died at his Albuquerque home a week ago, was much more than a prolific and pioneering author. He was a quiet, thoughtful, kind man who opened up his heart and his home to fellow writers and other friends.
"After my wife died 12 years ago, Fred almost adopted my son as his grandson," said Robert Vardeman, Albuquerque author of fantasy, science fiction, mystery and Western novels. "He was almost like family. My son, Chris, and I saw him at least once a week."
Saberhagen was 77 when he died June 29 after battling cancer for two years.
Survivors include his wife, Joan; a daughter, Jill of Moriarty; two sons, Eric of Missoula, Mont., and Tom of Falls Church, Va.; and seven grandchildren.
A native of Chicago, Saberhagen served in the Air Force during the 1950s and from 1967 to 1974 he wrote and edited articles on science and technology for Encyclopedia Britannica.
He moved to Albuquerque in 1975 and — except for a brief time in Carlsbad — lived here the rest of his life.
His fiction-writing career started in 1961 with sales to "Galaxy" and "If" magazines.
In 1963, he started writing stories about Berserkers — robotic, intergalactic, combat machines that survived the war they were created to fight and continued to carry out their mission to extinguish life wherever they found it.
His Berserker series, arguably his best-known work, would run to 18 novels.
Another popular Saberhagen series, 10 novels that give the vampire Dracula's side of the story, was launched in 1975 with "The Dracula Tape." Rice's first vampire book would not be published until 1976.
"I think he doesn't get enough credit for his highly individual imagination," said New Mexico science fiction author Walter Jon Williams. "He contributed two archetypes to the literature of fantastic fiction."
Williams said the Berserkers represent a powerful archetype that have been ripped off repeatedly, the "Star Trek" episode titled "The Doomsday Machine" being a good example.
"And the other archetype is the modern, rational, supernatural creature (Dracula) who tells his own story," Williams said. "Anne Rice and many other writers of supernatural fiction owe him a huge debt for that."
On a personal level, Williams remembers Saberhagen as a soft-spoken, unassuming man with a wicked, understated sense of humor.
"I remember one time he encountered a very young, enthusiastic Dracula fan who said meeting him was one of the most important days of her life," Williams said. "Fred said, 'Fortunately you are young and have many more days ahead of you.' "
Vardeman said Saberhagen was a quiet, private person with an incredibly sharp mind.
"He was a chess player, and that's how he looked at everything," he said. "He never talked much, but when he said something it was to the point and very thoughtful.
"The thing that always struck me about Fred's writing was its incredible breadth. His novel 'The Veils of Azlaroc' (1978), is one of my favorite science fiction books. It's one of the strangest time-travel books you'll ever see. It ranges from hard science to the pre-Raphaelite poets, all mixed into the same story."
Melinda Snodgrass, a science fiction writer who lives in Santa Fe, said Saberhagen was humble for someone who had created such seminal work in his field of writing.
"And with Fred, there was always that warm, welcoming synergy for writers," she said.
For a number of years, Saberhagen invited friends — mostly writers — to his home near the Sandia foothills for an Edgar Allan Poe birthday party, which was celebrated on a weekend close to Poe's January birthday.
Snodgrass, who worked for a time on the writing staff of TV's "Star Trek: The Next Generation," said she owes her literary life to another of Saberhagen's parties.
She said she was a lawyer when she accompanied a writer buddy to a barbecue at Saberhagen's home in 1979 or 1980.
"I thought it was the most fascinating group of people at that party that I had ever met," she said. "Fred was talking about vampires and letters he was getting from a man in Transylvania.
"After that party, I knew I didn't want to hang out with lawyers anymore. I started writing."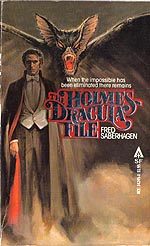 HOLMES-DRACULA FILE
by Fred Saberhagen
Published by Tor Books
Copyright (c) 1978 Fred Saberhagen
Jacket art by Glenn Hastings
Crime Makes Strange Partnerships -- And none stranger than that between Sherlock Holmes and Count Dracula.
Holmes confronts a pair of impossible problems: a ring of criminal masterminds threatening to loose thousands of plague infested rats into the streets of London and a bizarre killer who leaves a trail of bloodless corpses . . . and no other clues. . .
Dracula holds the key to both mysteries. Returned to London on a personal matter, the Count is quickly entangled in a web of evil that even his undead powers may not be enough to breach.
Here are the secrets of THE HOLMES-DRACULA FILE.

In a matter of only a few seconds, the man who faced us had himself in hand. I had been on the point of stepping forward to do what I could for his wounded arm, from which the blood had at first freely flowed. But his whole pose was unmistakably one of menace rather than defeat, and the blood-flow ceased almost as abruptly as it had begun, so that I judged it wiser, for the moment at least to hold my place.
But when the terrible figure spoke of Holmes, it was almost as calmly as before.
"May I congratulate you on thinking of wooden bullets? I had begun to believe all Englishmen were fools."
A brief excerpt

HOLMES-DRACULA FILE
by Fred Saberhagen

Taken from Chapter One:
There can be little doubt that if the cudgel descending on that old man's skull had been of lead or iron, rather than some stout timber of the English forest, not much would have come of the attempt--at least nothing worthy of your attention and mine at this late date. The street beside the East India docks was very nearly empty in the dawn, and to any assault with mere metal he would have responded vigorously, and then would have gone on his way to meet his love in Exeter, lighthearted with the sense of having done the metropolis of London a good turn en passant, ridding it of one or two of its more rascally inhabitants.
It is however an important fact of history--I do not exaggerate--that the force of that stealthy blow, delivered from behind by an assailant of breathtaking cunning, was borne in wood. The old man fell down senseless on the spot; he felt neither the slime of the street's stones nor the rough hands that lifted him and bore him off, their owners doubtless grumbling at his unexpected weight.
There was a great pain in the old man's head when he awoke, and he awoke to nothing better than a crippled awareness, bereft of useful memories. He was in a poor little bedchamber, quite strange to him. And when the old man tried to move, he found that his arms and legs were fettered with iron, held tight to the peculiar high, narrow bed or cot on which he lay. On making this discovery he began, as you may well imagine, very earnestly to consider his situation. But no, he could neither remember nor guess how he might have come to such a pass.
He had no more than shards of memory, all recent but quite incomplete: a sailing ship, a gangplank, the happy feel of solid land beneath his feet once more, the fog-wreathered dawn. . .the great pain in his head.
Now here he was locked to his bed, in a small room he did not know. The lone window was heavily blocked with blinds and curtains, but still admitted more light than he required to take stock of his surroundings. Above it on the stained ceiling a smear of reflected daylight quivered, signaling that water lay outside in the sun. On the far side of the room stood a high old chest of drawers in need of paint, holding on its top an unlit candle in a brass stick, a chipped wash-basin, and a pitcher. A stark chair of dark wood waited inhospitably beside the chest, and that completed the room's furnishings save for the bed itself, which seemed to be fashioned almost entirely of heavy metal.
It might be morning still, or afternoon. The Cockney cires of a coster, hawking vebetables, came from somewhere outside and below. The room, though small, was furnished with two doors, set in adjacent walls. One door was fettered by two closed padlocks, which were large and strong, and mounted upon separate heavy hasps. Little splinters of bright, raw wood about these showed that their installation had been recent. The other door was also closed, but had no lock at all, at least not on the old man's side.