HOLMÉSOLOGIE
Vendredi dernier, une statue de Sherlock Holmes et de son ami John Watson a été inaugurée à Moscou.
La cérémonie d'inauguration d'un monument à Sherlock Holmes et au docteur Watson a eu lieu vendredi dernier 27 avril à 18 heures devant l'ambassade de Grande-Bretagne à Moscou. L'ambassadeur de Grande-Bretagne Tony Brenton a donné une conférence de presse avant la cérémonie (à 17h00). Une réception a eu lieu à l'ambassade après l'inauguration de la sculpture.
De nombreuses photos sont visibles en
cliquant ici
.
Pour relire notre précédente news sur ce projet,
cliquez ici
.
Plus de détails sur le site d'
Alek Morse ici
.
MOSCOW, April 27 (RIA Novosti) - A monument to Arthur Conan Doyle's world-famous fictional sleuth Sherlock Holmes and his sidekick Dr. Watson has been unveiled near the British Embassy in Moscow, a RIA Novosti correspondent reported Friday.
British Ambassador in Russia Anthony Brenton and Russian artist Vasily Livanov, who played Holmes in a Russian television series based on the adventures of the famous detective, attended the unveiling ceremony.
The ambassador said he had read The Adventures of Sherlock Holmes at school and liked the book, but never thought he would participate in the opening of such a monument, which was created by sculptor Andrei Orlov.
The two-figure statue shows a pensive Holmes standing, pipe in hand, with his irreplaceable companion, Dr. Watson, looking up at him from a bench. It could bring a welcome change to Moscow's sculptural landscape, which is dominated by formal monuments to statesmen, often with a controversial legacy.
The non-profit foundation Cultural Dialogue/One World, the project's organizer, is also planning to erect monuments to the Little Prince and Don Quixote in Moscow, and to the Three Musketeers in St. Petersburg.
Six screen versions of Conan Doyle's novels have been made in Russia since 1979. The actor who appears in the title role, Livanov, last year received the Order of the British Empire for his portrayal of Britain's most famous literary detective.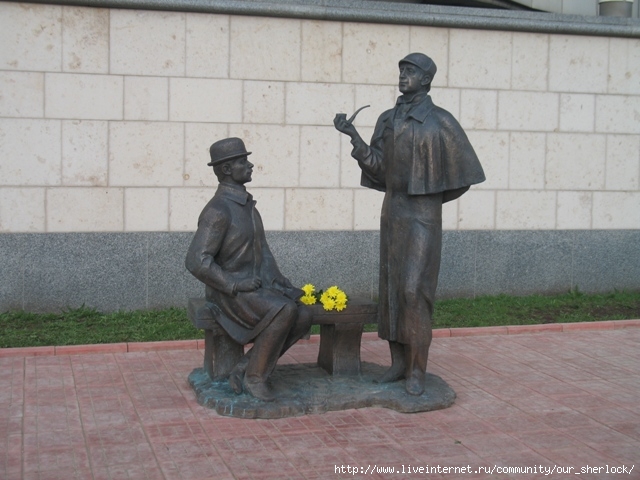 PRESS RELEASE - SHERLOCK HOLMES AND DOCTOR WATSON TO APPEAR BY THE BRITISH EMBASSY
(26/04/07)



On Friday 27 April the British Ambassador Tony Brenton will unveil a monument by the Embassy on Smolenskaya Embankment, dedicated to the British literary heroes Sherlock Holmes and Doctor Watson. A press conference with Mr Brenton and Russian actor Vasily Livanov OBE, who played Sherlock Holmes in the Russian adaptation, will take place before the opening. A reception in the British Embassy will follow.
17.00 - press conference at the British Embassy. Address - Smolenskaya embankment 10.
18.00 - opening of the sculpture on the lawn at the Embassy's embankment side.
18.30 - reception at the British Embassy.
For accreditation, please contact Evgeniya Minaeva at the Press and Public Affairs Section, British Embassy Moscow at
Tel: +7 495 956 73 58
Email:
Evgeniya.Minaeva@fco.gov.uk
NOTES FOR EDITORS


2007 is a special year for Conan-Doyle's famous characters: 120 years ago, in 1887, the first work about Sherlock Holmes and Doctor Watson was published - "A Study in Scarlet".
This sculpture is part of a project "Sculptural compositions", organised by charity fund "Dialogue of Cultures - United World". The fund is running over 10 projects aimed at promoting better understanding of various cultures. The project "Sculptural compositions" includes creation and installation of monuments to world literary heroes. In Moscow a sculpture of Baron Munchausen appeared in 2004 and a monument to Hodja Nasreddin in 2006.
The "Sherlock Holmes and Doctor Watson" sculpture was created by Andrey Orlov.
For more information on the fund "Dialogue of Cultures", please visit
ethnomir.ru.